Fog cylinders (through carb or through fuel delivery system depending on motor type
Drain carbs or run a winterizing mixture through your fuel system depending on motor type
Drain all water from the system and/or flush with antifreeze to eliminate the danger of trapped water.
Remove hull drain plugs to allow any bilge water to drain
Lower Unit oil will be checked. If it is dirty or discolored at all, it will be changed.
All grease fittings on the drive or motor will be greased
Put OB motors fully up for storage / towing.
Put I/O drives up high enough to ensure they will not drag when being moved but as low as otherwise possible for storage (to help preserve bellows)
When we winterize your engine:
We protect it against corrosion, freezing and stabilize the fuel. We also address some minor maintenance items at the same time, such as greasing steering bushings on outboards and changing oil in the lower unit when needed (gear box on Jetboats).

Below is a more detailed list of the items looked at along with some suggestions for you to make the process smoother.

Batteries
are disconnected and left in the boats. We do not heat our facility during the winter months so there is no advantage to removing them. A battery that is healthy will hold a charge and not freeze during the winter. If the battery is weak and loses its charge, it will freeze and most likely need to be replaced in the spring. Batteries left in the boat normally have a three to four year lifespan. You can extend it a year or two if you take it home and keep it in a heated area. If you wish to keep your battery in a heated location for the winter, we encourage you to take them out at the time we pull your boat. Put them on a trickle charge once a month over night to keep them active. DO NOT leave them connected to a charger for the entire winter as this can destroy the battery.


Covers
are left inside the boats draped loose so that they will not trap moisture. We encourage you to take them home with you at the time we pull your boat to avoid the possibility of rodents or moisture damaging them over the winter.

Winterizing and Shrink Wrap are great ways to help protect your investment for the off season but may not be sufficient to protect it for multiple years. Engines are meant to run. Be kind and use yours every summer.

Fuel
remaining in the tanks is stabilized.

We encourage you to leave

plastic

tanks

low or empty so that you do not have alot of old fuel to get rid of in the spring. Consider using it for your snow blower over the winter if you have a portable tank.

Metal

tanks

present a different problem Older tanks may rust so it is best to keep them full. BUT then you have 15 to 30 gallons of old fuel to burn next summer. Yes it is stabilized, but stabilizing can only do so much. Fresh fuel runs cooler, stronger and has a lower water content then old making it better for your engine. We do not have a good answer for you here. We just want you to be aware of the choice you are making.

DID YOU KNOW?
Small batteries (jetski, atv) should not be charged with more then a 1.5 amp charger and may take more then 24 hours to fully recharge?
Deep cycle batteries should not be charged with more then a 12 amp charger or you could over heat the battery and destroy it.


As we put boats away for the winter, we generate a list of items that need addressing in spring when we have more time. We will contact you when we begin working on the list if your boat had noted items to see if you would like them taken care of before the season gets underway.


Open Seasonally
April - October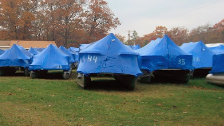 Copyright © 2017 Dehners Sports Center. All Rights Reserved.